Continuum CyberStation Security Workstation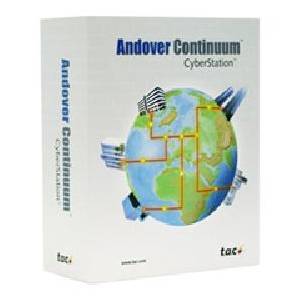 The Continuum CyberStation Security Workstation is the industry leading security command center. Flexible enough to meet even the most demanding user requirements, CyberStation provides unmatched graphics and information management tools. CyberStation also integrates seamlessly with digital video recorders from Integral Technologies®, allowing live video feeds from any camera to be placed in the secured environment. CyberStation is built upon a solid foundation, designed and implemented in strict accordance with ASHRAE BACnet™ standard to facilitate effortless interoperability with third party BACnet systems. CyberStation runs on the Microsoft® Windows® XP platform, and employs either a Microsoft MSDE or SQL database. Configurations range from a single PC to multiple workstations with a central file server. Comprehensive access control. User and card management. Powerful event and alarm management. Dynamic views of critical information. Advanced administration and reporting features. Leading-edge Digital Video Management. Support for an extensive range of security and access devices Web access anytime, anywhere. BACnet data integration to the I/A Series Building Management System.
---
Continuum Security Solutions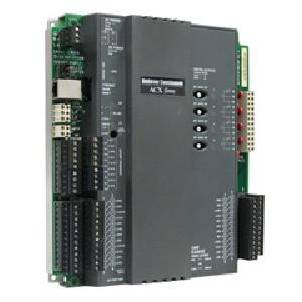 The I/A Series Continuum Security Solution provides a line of hardware that includes the ACX Series of Access Controllers for Ethernet, the bCX1 BACnet/Security Data Exchange Router, and the XP Expansion modules.The ACX Series controllers are the industry's most powerful all-in-one access controllers designed for both critical government and public sector security applications. These Continuum controllers are just as attractive for one to eight door installations. There are two base - hardware models: the 5720 and the 5740. The 5740 has double the inputs, readers and outputs onboard as the 5720. The ACX is designed to support both entry and egress readers while supplying +5 or +12 VDC to each reader.The bCX1 controllers reside at the network level and route BACnet messages between BACnet/IP, BACnet over Ethernet and MS/TP networks and can serve as a BACnet Broadcast Management Device (BBMD) allowing for routing of messages between IP networks.
---
LynxSpring Security JACE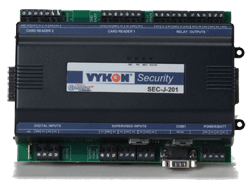 At the heart of VYKON Security is the Security Appliance, an IP-based controller capable of storing thousands of credentials and controlling multiple doors. The Security Appliance serves the complete VYKON Security software suite to a standard web browser, eliminating the need for an on-site PC or the purchase and installation of proprietary software. No longer is the security staff chained to a particular PC for system monitoring and management. Managing thick client software upgrades is a thing of the past, and because the NiagaraAXFramework uses standard IT technologies (i.e., browser, XML, SNMP, LDAP, JMS, etc.), it's easy to manage the convergence of physical and logical security.