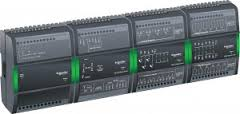 Benefits
SmartStruxure is designed to provide an integrated solution to our customers biggest challenges.
Save money by converging systems
SmartStruxure can provide intelligent monitoring, control, and management of your access control, video cameras, power, lighting, electrical distribution, fire safety, and HVAC on one network - across your enterprise. This eliminates the need for multiple systems and their associated hardware, software, training and maintenance costs.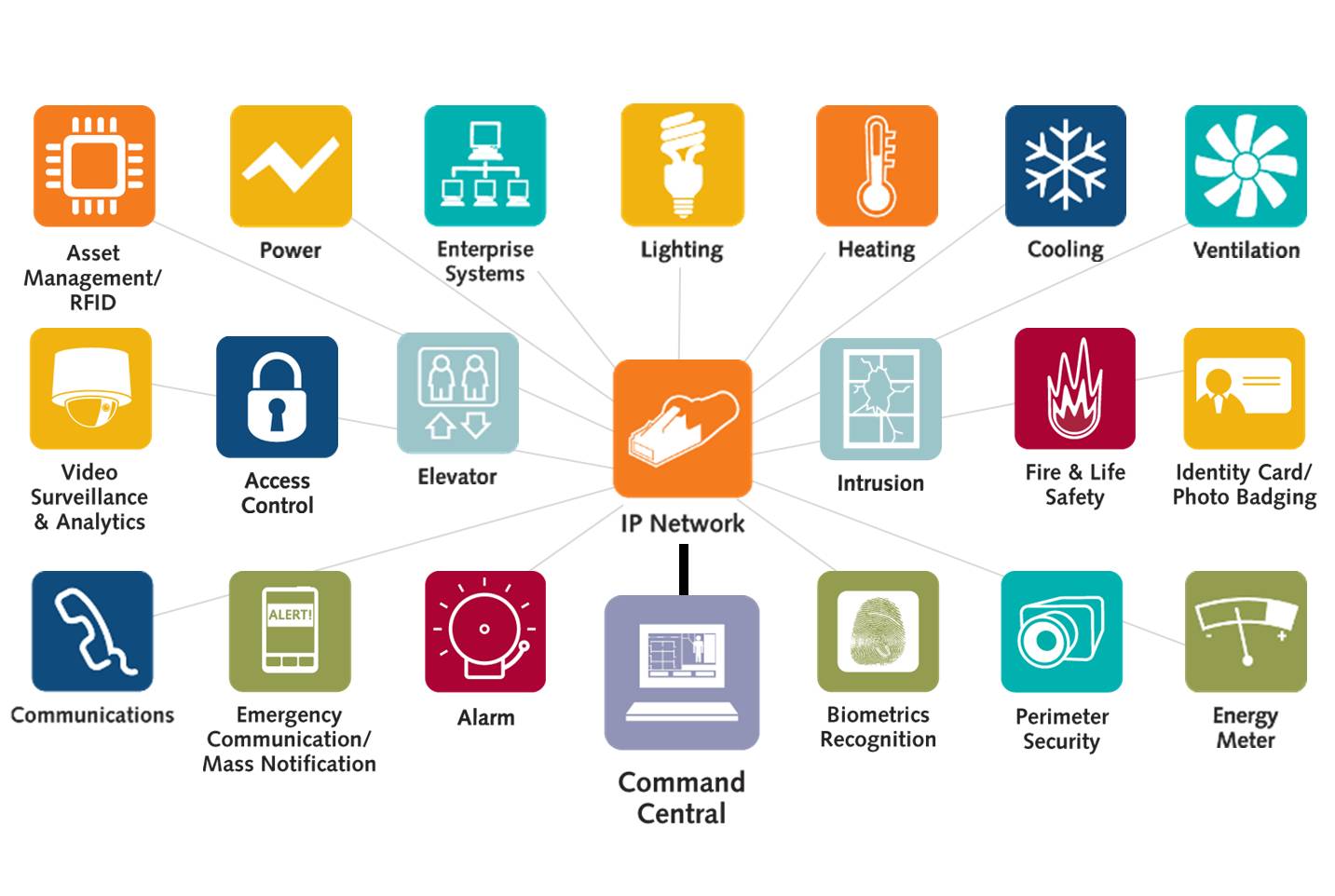 Protect people, property and your investment
SmartStruxure ensures that your people are comfortable and your buildings are secure. The system immediately responds to any event that falls outside the defined optimum range. Responses can include controlling equipment, emailing alarms, or displaying proper procedures to bring the facility back to peak performance. Best of all, you don't have to rip out your existing Schneider Electric system. As part of our commitment to you, we engineered SmartStruxure to be fully compatible with our existing product lines.
A focus on making everyday tasks easy
SmartStruxure was designed to simplify day-to-day operations and provide easy access to system-critical information. Scheduling, alarming, trending and reporting functionality are dramatically easier to use. Facility managers can focus on optimizing the system, rather than just using it.
Scalability
No one can predict the future; floor plans change, buildings expand, companies grow. Choosing an Intelligent Building Management System that can scale with your needs is a smart investment. The hardware for SmartSturxure is a 2- part module that snaps onto a DIN rail and scales without tools - they simply slide together. Systems can scale from a single building to a sprawling campus or global enterprise. Same robust functionality regardless of system size. A single Automation Server can support a mix of input/output modules and a range of field bus networks.
Every facility is different
Hardware
SmartStruxure's broad range of high density modules ensures your installation is customized to meet your exact needs. This makes sure you only pay for what you need, when you need it. Modules are hot swappable and have plug and play functionality for easy installation, upgrades and maintenance.
Digital input modules
Digital output modules
Analog output modules
mixed I/O modules with universal inputs and digital outputs
mixed I/O modules with universal inputs and analog outputs
Investment Protection
We value the investment our customers have made in Schneider Electric's products. We made a conscious commitment to "leave no customer behind."
SmartStruxure is fully compatible with all of our existing product lines down to the field level device.
Leave existing system in place and upgrade software to SmartStruxure
Add SmartStruxure hardware as the system grows.
Flexibility
Native Open Protocols
SmartStruxure will support every major communication standard in building automation and security management, including:
TCP/IP
LonWorksTM
BACnet®
Modbus®
Ethernet
This multi-lingual approach gives you the freedom to connect any equipment and the power to gather and analyze data to maximize operational efficiency
Easy to Customize
SmartStruxure can be customized to display information exactly how each facility wants.
Security installations can have video displayed on multiple monitors.
BMS system can pull in weather information from the internet.
View the system on one screen or five – it is completely flexible.
Robust Functionality
We took the best features and functions from our current portfolio of BMS products and incorporated them into SmartStruxure.
Alarms can be emailed to designated individuals or groups.
Reports come with the product or can be easily customized for specific needs.
Schedules and exceptions are controlled with an intuitive interface.
Trends show how the system is performing and highlights areas that need attention.
Usability - Faster Engineering
The biggest expense in building management is not equipment; it is people's time. With SmartStruxure we made the installation and operation of system easier, faster and more efficient.
Preconfigured devices, called Power Objects, are online in seconds instead of hours.
Plug and play modules are hot swappable and auto-discovery.
Import/export functionality reduces rework and enables "best practice" sharing.
Choice of two programming methods (using script or function block
Flexible User Interface
People are more productive when they work the way they want to. SmartStruxure was designed so that each individual user can customize their work space. The panel-based layout enables groupings of different functionality into an intelligent user interface.
Preferences follow users so when they log on to a different computer they see their layout
Easy drag and drop functionality is intuitive
Save multiple views and quickly switch between them for multi-tasking efficiency
Set up default views for user groups that can then be customized
Stunning Graphics
SmartStruxure contains advanced TGML graphic capabilities that can create graphics to help visualize your building. The possibilities are limited only by the imagination.
SmartStruxure's unique Layers functionality facilitates easier editing of graphics with different categories of information. Layers can be controlled programmatically so that the right information is displayed to the right users
Convergence - EcoStruxure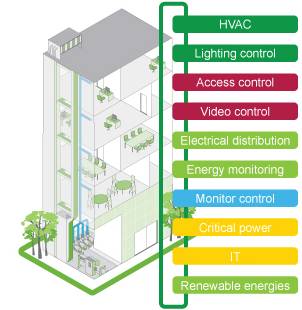 To make an impact on your bottom line, energy efficiency must go beyond the device level and include a system level approach.That is why Schneider Electric introduced EcoStruxure. EcoStruxure systems are simplified, save money and reduce waste by enabling a guaranteed compatibility between the management of five key domains: power, data centers, process and machines, building control, and security. EcoStruxure is not a product, but rather an approach to create an intelligent energy management system within your facility
With EcoStruxure, you can achieve up to a 30% reduction in your energy costs through systematic energy monitoring and real time control of all energy usage. Energy waste in all forms – from electricity and water to mechanical and human – can be measured and mitigated.
EcoStruxure reference architectures are proven, tested, documented and supported so you enjoy faster deployment and a single point of accountability - at not extra cost.