SmartStruxure™ Lite Solution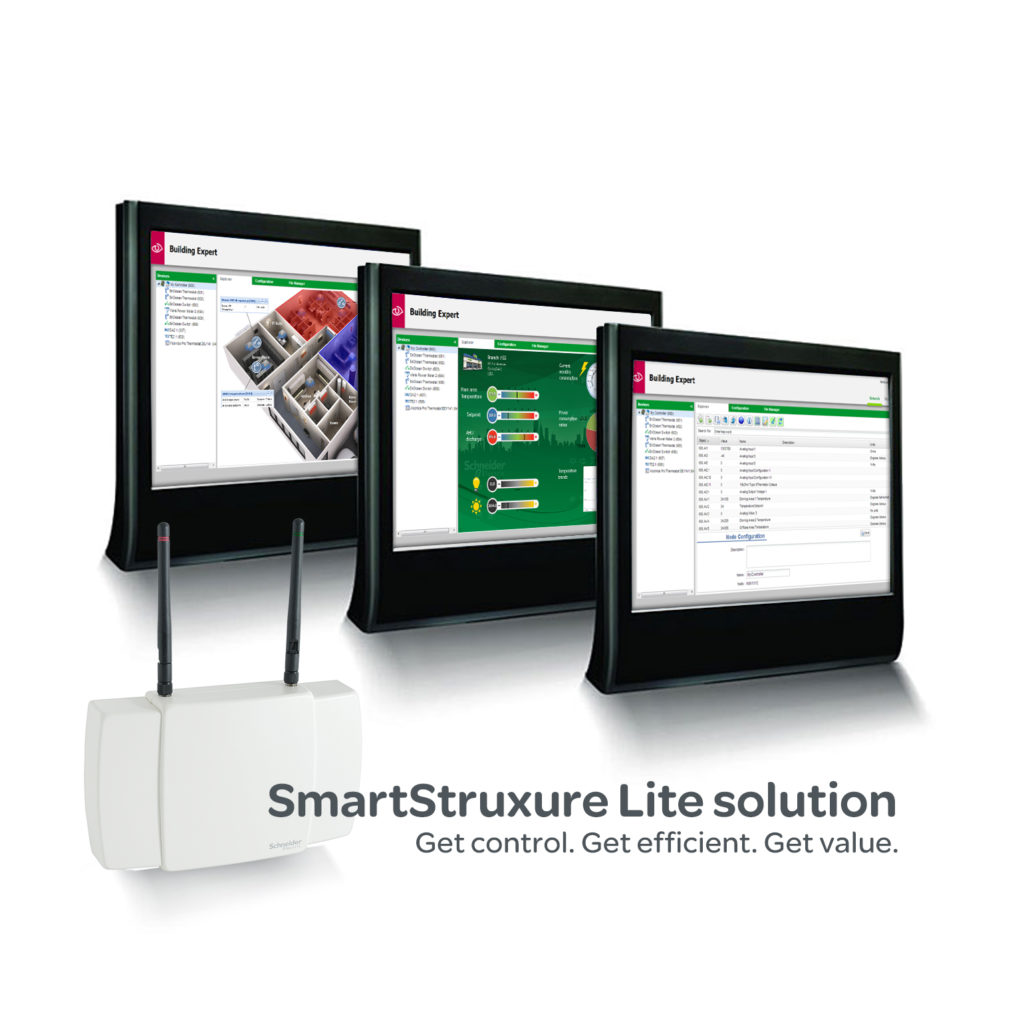 High-performance meets affordability
SmartStruxure Lite solution is a fast, easy way to future-fit your small- to medium-sized building using Web and wireless technology to control HVAC, lighting, and metering. Save energy, save time, and improve comfort with minimal impact on operations.
Get control
SmartStruxure Lite solution is an affordable solution for those who don't need or can't afford a large building management system — helping you control your building's energy costs and improve comfort for maximum productivity.
Flexible monitoring, control, and scheduling options
Simple Web interface delivers one-click access to your site's data
Wireless technology makes it a perfect solution for retrofits
Get efficient
Because you can't control what you don't measure, SmartStruxure Lite solution provides the tools you need to operate your small- to medium-sized building at peak efficiency.
Delivers immediate energy savings and reduced operational costs
Easy-to-operate mobile platform for anywhere, anytime access to integrated building data
View all your systems on a single, customizable user interface
Get value
SmartStruxure Lite solution prepares your building for the challenges of rising energy prices and stricter efficiency regulations.
Scalable, future-proof solution that grows with your business
Instant return on investment through lower energy costs
Maintain day-to-day building operation during installation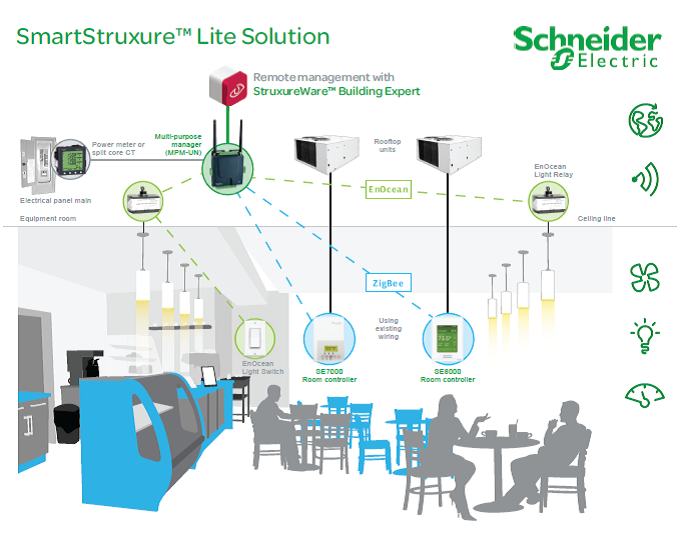 Intelligent Gateways GW2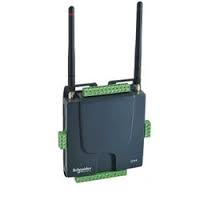 Wireless control and network with BACnet Integration and Web Based Energy Management System.
A powerful line of bi-directional gateways to integrate wireless solutions to wired building automation system. Schneider Electric gateways can integrate wireless end devices, based on the EnOcean and Zigbee protocols and standards, into BACnet building automation systems. All Gateways are interoperable with any BACnet compliant building management system. GW2 also has 6 universal inputs, 4 analog outputs and 2 relay outputs for hardwire connectivity. Each gateway has a 400MHz processor, 2GB of Flash, 64 MB or RAM and can communicate with EnOcean and/or Zigbee along with wired CANbus and Ethernet IP. Each controller hosts a complete BACnet IP building automation web building energy management system. No Software or Server required.
---
VA2 VAV Controller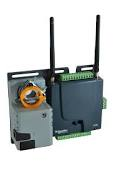 Wired and Wireless Control and Networking with BACnet Integration and WEB BEMS
A flexible VAV controller that deploys integrated solutions for HVAC, Lighting, VAV and more quickly linking multiple devices based on many standard protocols. Interoperable with any BACnet compliant building management system or as a standalone fully programmable device. Each controller hosts a complete BACnet IP building automation web building energy management system. No Software or Server required.
---
TE2 Wireless Terminal Equipment Controller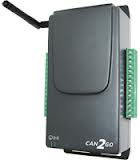 Smart wireless peripheral with internal Zigbee Transceiver. Fully programmable controller for HVAC, Lighting and Metering applications including: Fan Coils (2 pipe, 4 pipe), Heat Pumps, Dehumidification Units, Pulse Counting
---
Wireless Peripherals

Sensors & Setpoints
Wireless Temperature Sensor with Setpoint (STW-4014W / STW-6014DW)
Wireless Temperature and Humidity Sensor (THW-1102W / TH-1102DW)
These wireless, compact and stylish room temperature and humidity sensors are designed for use with Schneider Electric CAN2GO controllers or other building automation systems.
Easy mounting to flat services.
Reduce maintenance with energy-harvesting, solar powered technology.
Save time and labor cost on installation.
Choose from models with temperature and humidity or temperature with setpoint.
Durable, low profile, thermostat style case is visually appealing.
---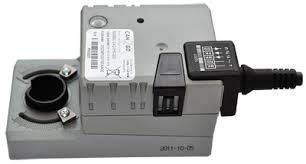 Intelligent Wireless Valve/Damper Actuator
The DA2 is a Smart Wireless Peripheral. It is a locally programmable valve/damper actuator that can communicate wirelessly with Schneider Electric CAN2GO controllers.
---
Packaged HVAC Controller

Smart energy management has never been easier than with the SE7000 series of rooftop and heat pump controllers. Designed for new construction and retrofit projects, the controllers dramatically decrease total installed costs by reducing installation, configuration and commissioning time. No complex software tools are required to customize functionality in order to meet your applications requirements. They provide all the advanced features and monitoring functions required by modern building automation systems in a simple "thermostat like" enclosure.
Wireless Technology
Schneider Electric's CAN2GO technology is used for building automation to provide for control of wired end devices, as well as wireless end devices based upon EnOcean and ZibBee standards. They support wireless networking through Zigbee mesh, IP networking as wells as daisy chain thru CANbus. This offers complete bi-directional gateway integration from EnOcean to BACnet and ZigBee to BACnet. These gateway products have embedded servers that host a complete BACnet IP web-based interface.
EnOcean
Schneider Electric CAN2GO products use EnOcean certified components and technology. EnOcean is a "self powered or energy harvesting" wireless monitoring and control system using the interoperable wireless standard (International Electrotechnical Commission (IEC)) has ratified a new standard – ISO/IEC 14543-3-10 – for wireless applications with ultra-low power consumption. It is the first and only wireless standard that is also optimized for energy harvesting solutions and, therefore, for EnOcean's self-powered wireless technology. Together with the EnOcean Equipment Profiles (EEPs) drawn up by the EnOcean Alliance, this international standard lays the foundation for fully interoperable, open wireless technology comparable to standards such as Bluetooth and WiFi.
The new standard is geared to wireless sensors and wireless sensor networks with ultra-low power consumption. It also includes sensor networks that utilize energy harvesting technology to draw energy from their surroundings – for example from motion, light or temperature differences. This principle enables electronic control systems to be used that work independently of an external power supply.
Technical specifications
The standard covers OSI (Open Systems Interconnection) layers 1-3, being the physical, data link and networking layers. The full title of the standard is: ISO/IEC 14543-3-10 Information technology -- Home Electronic Systems (HES) -- Part 3-10: Wireless Short-Packet (WSP) protocol optimized for energy harvesting -- Architecture and lower layer protocols.
ZigBee
Schneider Electric CAN2GO products use ZigBee certified components and technology. ZigBee is a set of high level communication protocols allowing low data rate transfers at a low cost with low power consumption. ZigBee is the only standards-based wireless technology designed to address the unique needs of low-cost, low-power wireless sensor and control networks in just about any market. Zigbee uses the 2.4 GHz radio frequency to deliver a variety of reliable and easy-to-use standards anywhere in the world.
Standards Based
The foundation of every ZigBee standard and specification is the powerful IEEE 802.15.4 physical radio standard operating in unlicensed bands worldwide at 2.4GHz (global), 915Mhz (Americas) and 868Mhz (Europe). It delivers raw data throughput rates of 250Kbs at 2.4GHz (16 channels), 40Kbs at 915Mhz (10 channels) and 20Kbs at 868Mhz (1 channel). Transmission distances are remarkable for a low-power solution, ranging from 10 to 1,600 meters, depending on power output and environmental conditions, such as other buildings, interior wall types and geographic topology.
CANbus
CAN bus (for controller area network) is a vehicle bus standard designed to allow microcontrollers and devices to communicate with each other within a vehicle without a host computer. CAN bus is a message based protocol, designed specifically for automotive applications but now also used in other areas such as aerospace, maritime, industrial automation and medical equipment. Development of Controller Area Network bus started originally in 1983. The protocol was officially released in 1986 at the Society of Automotive Engineers (SAE) congress in Detroit, MI. The first CAN controller chips, produced by Intel and Philips, came on the market in 1987. Bosch published the CAN 2.0 specification in 1991. In 2012 Bosch has specified the improved CAN data link layer protocol, called CAN FD, which will extend the ISO 11891-1. CAN bus is one of five protocols used in the OBD-11 vehicle diagnostics standard. The OBD-II standard has been mandatory for all cars and light trucks sold in the United States since 1996, and the EOBD standard has been mandatory for all petrol vehicles sold in the European Union since 2001 and all diesel vehicles since 2004.